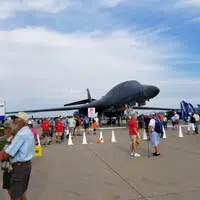 A long-range strike bomber for the Air Force is taking up a large piece of real estate in Boeing Plaza at EAA AirVenture in Oshkosh.
The B-1B Lancer is the only supersonic bomber in the fleet.
Major Nick Brooks is on the crew, and he says the aircraft can fly at low hights, so they can attack regardless of the weather.
Brooks says they have four crew members — a pilot, co-pilot, and offensive and defensive system operators.
He says the offensive operator is in charge of dropping any weapons, and the defensive operator works to defend them against any threats.