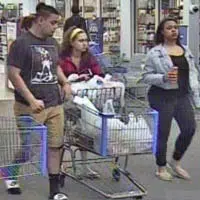 Oshkosh police are trying to find three people, as part of their investigation into a gunshot that was fired in a Walmart parking lot.
They released pictures of them from surveillance video from the store. They think the three might have information about the incident.
Police were called to the Walmart on S. Washburn Street around 6:15 p.m. The suspect's vehicle was spotted going east on Highway 21, near Koeller Street. A police officer decided not to start a high-speed chase.
Police don't believe there's a threat to the community.