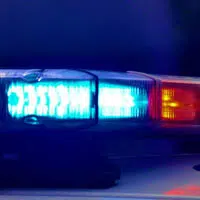 Kaukauna police have a 21-year-old man in custody for driving his pickup truck into the river near Island and Elm Streets in front of Veterans Memorial Bridge.
Police were called to the area around 9:30 p.m. last night for reports of a pickup truck squealing tires.
Travis Vandenbloomer ran from the scene and hid under a trailer. Police had to taze him to get him under control.
He was taken to a hospital with minor injuries.
The Outagamie Co. dive team was called in to search the truck, in the river, to make sure no one else was inside.
Vandenbloomer, from the Kaukauna area, is facing several charges.