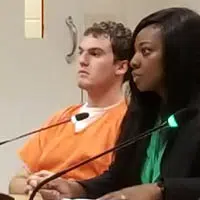 A 19-year-old man is facing a murder charge for the shooting death of an Appleton man.
Trevor Teela of Grand Chute was in Outagamie County court this afternoon, two days after 20-year-old Benjamin Graves was killed.
Court Commissioner Brian Figy set Teela's bond at $500,000.
Prosecutors believe it was a drug deal gone bad, at a duplex in the 600 block of S. Olson Avenue in Grand Chute. District Attorney Melinda Tempelis says there was an argument after marijuana was exchanged, and Teela shot Graves in the chest.
Prosecutors say Teela told investigators he shot Graves, and then hid the gun in his house.
Seventeen-year-old Elian Coronado of Grand Chute is also facing charges in connection with the murder. He was recently released from the Lincoln Hills youth prison, and he's not allowed to have a gun. Prosecutors say he was working with Teela to sell marijuana to Graves and another man.
Coronado's bond was set at $200,000.