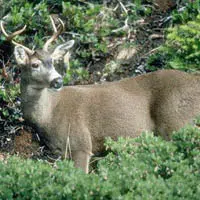 A deer shot at a Shawano County game farm tested positive for chronic wasting disease.
The three-year-old buck was one of about 250 on the Comet Creek farm in the Tigerton area. It's the first positive test for CWD in Shawano County.
The state's ag, trade, and consumer protection department is quarantining the ranch, and a breeding farm in Waupaca County. The deer was born at a game farm in Portage County that's already under quarantine for CWD.