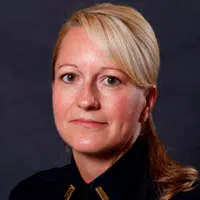 Appleton police have a new captain to cover the north side of the city and the downtown.
Capt. Polly Olson was leading the department's investigative unit before her promotion. She's been with the department for 16 years. She says the first thing she wants to do is get reacquainted with being on the patrol side again.
Olson was the department's Officer of the Year in 2012 for her work on some complicated sexual assault investigations. In her role overseeing investigations, she was involved in murder cases and other high-profile crimes.
Olson graduated from college with a biology degree, and she became interested in becoming a police officer while working at the Outagamie County coroner's office. She says she was able to help with death investigations.
Olson is the third woman to become a captain for the Appleton police department. The previous one was Julie Bahr, and she retired in 2011.