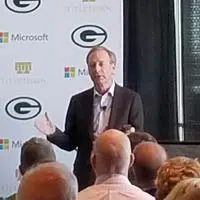 From farming to manufacturing and paper making, technology is helping improve production.
That's according to Microsoft President Brad Smith. He says the positive impact will only be greater, with more innovations.
Smith was in Green Bay yesterday to help launch TitletownTech, an initiative to help entrepreneurs and existing businesses.
Smith says technology is helping farmers analyze their fields and planting patterns, and improving yields by 20 percent in some cases.
Smith is from Appleton. He graduated from Appleton West high school, after his family moved to the city when he was a teenager.