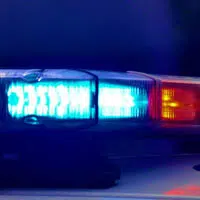 Waupaca County sheriff's deputies are investigating a murder-suicide.
They say a 51-year-old rural Weyauwega man got into a car with his estranged wife, around 8 a.m. Deputies say he shot the 32-year-old woman multiple times, after she pulled out of a parking lot, onto Highway 110 in the town of Royalton.
They say the man then turned the gun on himself. The car crashed into a ditch.
The sheriff's department says she had been living with family in the Manawa area.