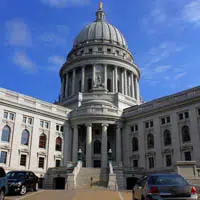 Another Democrat is in the race to try to unseat Governor Walker.
Mahlon Mitchell is the president of the state firefighters union. The 40-year-old announced his candidacy this morning in Green Bay. About 10 other Democrats are officially in the race, or are considering it.
Mitchell says his 20 years of experience as a firefighter in Madison sets him apart from the other candidates.
Mitchell grew up in Delavan, the same town as Governor Walker. He lives in the Madison suburb of Fitchburg.
Mitchell ran for lieutenant governor in the 2012 recall election.