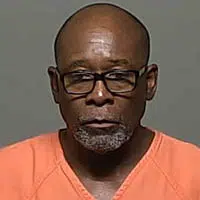 A 58-year-old man is pleading not guilty in an Appleton murder case.
Johnny Scott was in Outagamie County court this morning. He's charged with killing his girlfriend, 48-year-old Annie Ford, at their duplex on the city's southeast side. Prosecutors say they were arguing over money and a TV throughout the night, before Scott shot her four times on September 22.
He's also accused of pointing the gun at Ford's teenage son, at the duplex on E. Canary Street.
Scott is scheduled to be back in court in January.