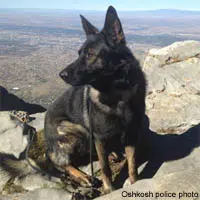 Oshkosh's new K-9 is already making an impact on the department.
Odin is a 2-1/2-year-old German Shepard.
He was working with his handler, Officer Brad Fox, for the second time….last night. Officer Kate Mann says Odin found some drugs.
Odin will be working the third shift, and he's replacing the recently retired K-9 Gucci. The department's other K-9, Aik, works during the day with Officer William Fowler. Aik has been with the department since 2015.