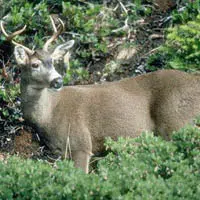 The projections for this year's gun deer hunt are positive, especially in northeast Wisconsin.
The DNR put together forecasts for the different regions of the state. The nine-day gun season starts tomorrow.
Wildlife biologist Brian Woodbury of Appleton says last winter was mild, and they had very good fawn production this year. He says that means there will be more bucks out there.
Woodbury says even though the herd is stronger than last year, the number of deer that hunters see will vary, depending on the habitat.