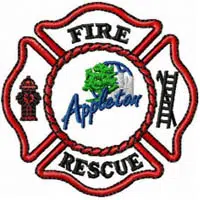 Appleton firefighters are kicking off a fire prevention effort for the holidays.
The department is hanging wreaths outside of fire stations with green bulbs on them. Battalion Chief Joe Strauss says whenever there's a fire at a home or a business, they replace a green bulb with a red one. He says they started in 2011, and their highest year had seven bulbs.
Strauss says they tend to get a lot of calls during the holidays. He says that's because of issues with lights, candles, extension cords, and cooking.