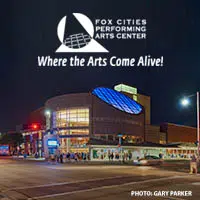 The Fox Cities Performing Arts Center is turning 15 years old this weekend.
Saturday is the anniversary of the opening night show with singer Tony Bennett, in 2002.
Maria Van Laanen is the president of the downtown Appleton venue. She says it's all possible because the community embraced the PAC as a gathering place right away. She says that includes Bennett's opener and the community events that happened in the following week.
Van Laanen says they've hosted 30 Wisconsin premieres of Broadway shows since "Mamma Mia" was the first musical to hit the stage. They include "The Lion King," "Wicked," and "Jersey Boys."
Van Laanen says they've also brought in many shows that highlighted different cultures, through the Arts Alive and new Showcase series. She says they've also hosted more than 340,000 students for educational programs.