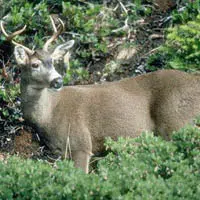 The nine-day gun deer season came to a close yesterday.
Almost 600,000 hunters hit the woods.
It marked the third season where hunters had to register their deer electronically.
Connie Leon of the Rocky Top bar in Askeaton says that's impacting former registration stations. She says it was a tradition for people to gather at the registration stations, and that's not happening anymore.
The final deer numbers will be released this week.
Over the opening weekend, nearly 103,000 deer were registered. That was down 12 percent from last year.