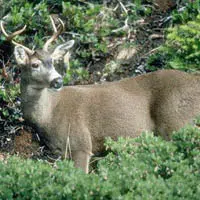 Seven people were shot in deer hunting accidents over the nine-day gun season.
Jon King is the DNR's hunter education administrator. He says five of them were self-inflicted gunshot wounds, because hunters didn't handle their guns properly. He says two others were shot by someone else, and one of them happened on a deer drive.
King says the total is on par with the average number of accidents they've had over the past 10 years.
There were two reports of hunters dying in the woods during opening weekend. King says their deaths were not the result of a hunting accident.