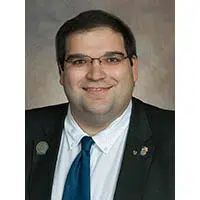 A conservative lawmaker is talking about his push to move up to the state Senate.
Republican Representative Andre Jacque of De Pere is going to run for the 1st District seat this fall.
Senator Frank Lasee of De Pere resigned from the seat last Friday to take an administrative job with the Department of Workforce Development.
Jacque was elected to the Assembly in 2010 and he's in his fourth term.  Jacque is known for working on anti-abortion bills and others that support law enforcement. He's the first candidate to get in the race.
Governor Walker decided not to hold a special election to fill Lasee's seat.