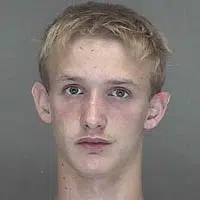 A man from the Greenleaf area will spend five years in prison, after he killed two people in a crash.
Nineteen-year-old Devon Robley was sentenced in Brown County court this morning.
Prosecutors say he was going 70 when he ran a stop sign and hit a car in the town of Glenmore, in July of 2015. They say he had been smoking marijuana.
Thirty-two-year-old Laurie Shaha of De Pere and 16-year-old Simon Hill of the Greenleaf area lost their lives.
Hill was riding with Robley, and he was thrown from the pickup truck. Shaha was riding in an SUV, and her mother was also seriously hurt.
Robley pleaded no contest to two counts of homicide by negligent driving. He'll also serve five years on extended supervision.