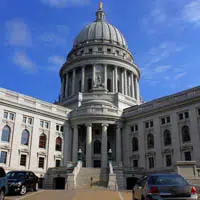 Members of the Wisconsin Elections Commission want the Senate to hold a hearing on the appointment of the agency's administrator.
They want it to happen before they vote on whether to confirm Mike Haas to the position.
Commission Chair Mark Thomsen says the six appointed members are the only ones who can actually remove Haas. He says the threats to reject the confirmation are unwarranted. He says no evidence has been presented that says Haas isn't the most qualified person to run the agency.
Senate Majority Leader Scott Fitzgerald says his office has no plans of holding a hearing but won't say why.
Some Senate Republicans want Haas to resign following a critical report of the former Government Accountability Board by the state justice department. They're also calling for the resignation of Ethics Commission administrator Brian Bell.