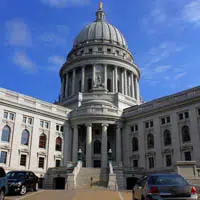 Madison's mayor is joining a field of about a dozen other Democrats hoping to be the next governor.
Mayor Paul Soglin officially announced his candidacy today. Soglin has been the mayor of the state's capitol city off and on for 20 years. He says that, plus his 25 years of experience in the private sector, qualify him for the job.
Soglin says communities can't survive and be vibrant without a great public school system. He says the state is lacking in that way.
Soglin is also criticizing the deal with Foxconn. He says the incentives would be better spent on transportation, and investing in small business.
The Democratic primary will be in August. The winner will take on Governor Walker.