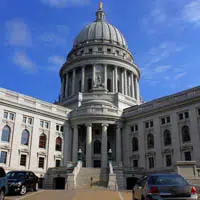 People will get a chance to hear from many of the Democrats in the race for governor tonight in Menasha.
There's a forum at UW-Fox Valley and 10 candidates are scheduled to be there.
Lee Snodgrass is a chair of the Democratic Party of Outagamie County. She says they teamed up with the Winnebago County Democrats to put together the event. She says it'll last about 90 minutes.
Snodgrass says the first question will be answered on Twitter before the event begins. She says at the event each candidate will get a question specifically for them and it won't be the same as the others. She says they'll also have a lightning round where everyone has a minute or less to answer.
The forum starts at 7:00 p.m. in Perry Hall. The candidates can also set up in the lobby beforehand beginning at 6:30 p.m.