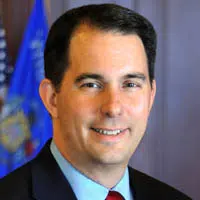 Governor Walker is working on a welfare reform package, and he wants lawmakers to act on them quickly.
The proposals include a photo ID requirement to use food stamps, and an asset test to receive Medicaid benefits and food stamps.
Walker was at Appleton International Airport this afternoon. He says it's about sticking up for taxpayers, and helping businesses find workers. He says it would help people who are capable of working transition from government dependence, to the independence that comes through work.
Walker says able-bodied people should have to spend 30 hours a week working, or going through job training, in order to receive Medicaid and food stamps. He also wants to expand drug testing to those programs.
Walker called a special session of the Legislature, and he hopes lawmakers will approve the bills next month.