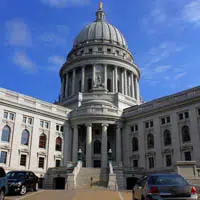 Two administrators of state agencies are reacting to the Senate's decision to reject their confirmation.
During yesterday's debate Majority Leader Scott Fitzgerald claimed he told both men their positions were temporary. Ethics Commission administrator Brian Bell says he doesn't remember that conversation.
The response from Elections administrator Mike Haas was similar. He says he's certain that he was never told that.
Bell and Haas say they plan on talking to their commissions before deciding what to do next. Both say they haven't ruled out legal action or re-applying for their jobs.