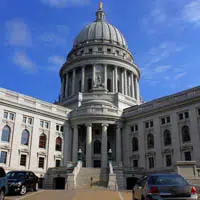 A number of Democrats are putting together a formal proposal to put $60 million toward helping the paper industry.
Assembly Minority Leader Gordon Hintz of Oshkosh is working on the bill. He says they know the industry can be competitive in the future, but the state has largely been absent in providing the necessary resources.
The proposal would set aside $30 million to help companies convert their machines to produce brown paper. Another $30 million could be used to improve energy efficiency.
Outagamie County Executive Tom Nelson, Rep. Amanda Stuck of Appleton, and Sen. Dave Hansen of Green Bay are also working on the bill. They introduced it this morning, at the Paper Discovery Center in Appleton.
The proposal comes after Kimberly-Clark announced last week that it plans to close the Cold Spring Plant in Fox Crossing and the Neenah Nonwovens facility. About 600 people would lose their jobs. The Appleton Coated mill also closed last year, and Appvion cut 200 positions.