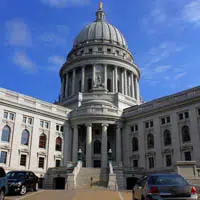 Assembly Democrats are calling on Republicans to change the state's gun laws in the wake of the Florida school shooting.
Minority Leader Gordon Hintz of Oshkosh was joined by several students from Madison schools at a press conference yesterday. Sophomore Lydia Hester argued she and her classmates shouldn't have to worry about being shot while they're trying to learn. She says students learn how to respond to a shooting situation as early as kindergarten. She says five-year-olds shouldn't have to think about things like that.
Democrats want Republicans to hold votes on bills that would require universal background checks, block people convicted of domestic violence from having a gun, and ban bump stocks.
Assembly Speaker Robin Vos accused Democrats of trying to grab headlines and prey on people's fears.