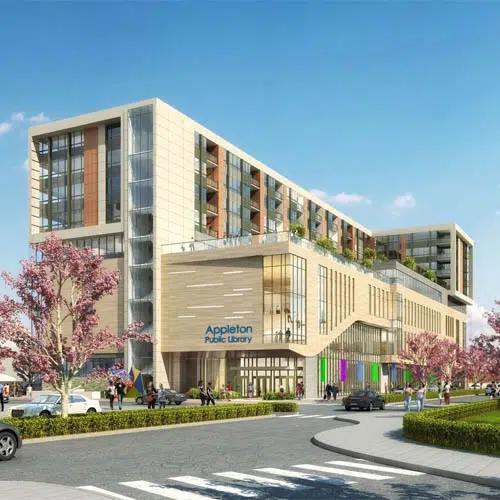 The proposed location for a new library in downtown Appleton is the site of the Soldiers Square parking ramp.
The project would include about 100 condos or apartments, and retail space. There would be underground parking as well. It would add about $22 million to the city's tax base.
The city asked developers for proposals for a mixed-use project, and staffers are recommending that one over seven others.
The city would contribute nearly $30 million for the building, and some private fundraising could be necessary to cover additional costs to finish the interior.
Developer Paul Klister of Commercial Horizons wants the project to be the first phase of a larger plan in that area. He's proposing another building south of the YMCA, with 200 more apartments, a restaurant, retail, and a parking ramp. That would add another $44 million to the tax base.
The city would pay for the ramp, and the cost is estimated at nearly $27 million. It wouldn't be built until the second phase, and it would have space for public parking, YMCA members, and tenants in the development.
The YMCA owns the Soldiers Square ramp, and it would have to be torn down in the coming years because of its age. Until the new ramp is built, Commercial Horizons will put in a temporary parking lot south of the YMCA, on the site of the second development.
There will be a special meeting of the city's finance committee and the library's building committee on Monday at 5:30 p.m., at City Hall, to talk about the proposal.
Work on the project could start this fall, and it could be done by May of 2020.