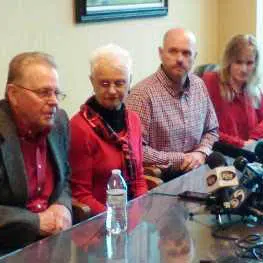 A 64-year-old man got the maximum 10-year sentence for a cold case murder in Fond du Lac County.
Dennis Brantner reached a plea deal with prosecutors last month, and he was convicted of second-degree reckless homicide.
Eighteen-year-old Berit Beck went missing in July of 1990 while she was on her way from southeast Wisconsin to Appleton. Her van was abandoned in the parking lot of a Fond du Lac mall.
Beck's body was found several weeks later in a ditch, near Waupun.
Her mother, Diane, is grateful for the support they received from law enforcement and people in the community who came forward with any information.
Sheriff Mick Fink was a young deputy when Beck was killed. He says he's absolutely inspired that Beck's family was able to hang together over the years, and put up with the struggles that investigators had along the way.
A trial in 2016 ended with a hung jury, and Brantner was scheduled to stand trial for a second time before he changed his plea. He's already serving a sentence of 6-1/2 years on drug possession and bail jumping charges.
(Pictured: Beck's family spoke with reporters after the sentencing. Photo courtesy KFIZ, Fond du Lac.)