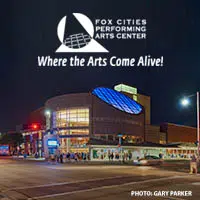 The next season of the Arts Alive! series at the Fox Cities Performing Arts Center includes nearly a dozen different artists or groups from around the world.
PAC President Maria Van Laanen says the highlights include the Havana Cuba All-Stars and the Ragamala Dance Company's appearance. She says the company will bring the culture of India to downtown Appleton.
Musician Kathy Mattea, Wild Kratts — Live!, the "Rock of Ages" musical are also on the schedule.
Boldt Arts Alive Series Schedule
Trey McLaughlin & The Sounds of Zamar, Saturday, October 20, 2018
Stephen Lang in "Beyond Glory," Thursday, November 8, 2018
Wild Kratts — Live!, Friday, November 9, 2018
Pixar in Concert with the Fox Valley Symphony Orchestra, Saturday, November 17, 2018
Kathy Mattea, Saturday, January 19, 2019
Ragamala Dance Company's Sacred Earth, Tuesday, March 5, 2019
"Rock of Ages," Friday, March 15, 2019, 7:30 p.m. and Saturday, March 16, 2019, 2 p.m. and 7:30 p.m.
Asere! — A Fiesta Cubana featuring musicians and dancers of the Havana Cuba All-Stars, Tuesday, March 19, 2019
Reduced Shakespeare Company's "The Complete Works of William Shakespeare (Abridged) [Revised]," Tuesday, April 9, 2019
B — The Underwater Bubble Show, Tuesday, April 16, 2019
Dick Fox's "Golden Boys" starring Frankie Avalon, Fabian, Bobby Rydell, Thursday, May 9, 2019
Spotlight Series Schedule
"Women of Country," Thursday, October 11, 2018
Lucas Bohn's Lesson Plans to Late Night, Friday, January 25, 2019
Cornerstone Jazz Orchestra, Friday, April 26, 2019
Kimberly-Clark Broadway Across America Schedule
"Something Rotten!," October 23-28, 2018
"Fiddler on the Roof," November 27-December 2, 2018
"Anastasia," January 8-13, 2019
Disney's "The Lion King," February 7-24, 2019
"Come From Away," April 2-7, 2019
"The Play That Goes Wrong," April 30-May 5, 2019