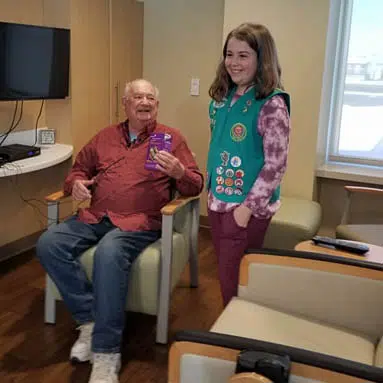 A local Girl Scout continued her tradition of delivering Girl Scout Cookies to cancer patients.
Eleven-year-old Katelyn Hoelzel brought more than 70 boxes to Fox Valley Hematology and Oncology on Appleton's northeast side Friday afternoon. She collected donations to buy the cookies.
Hoelzel is a fifth-grader from Kaukauna, and she started donating Girl Scout Cookies when she was in kindergarten, as a Daisy. She does it in memory of her grandmother, because her grandmother went there for treatment before she died.
(Pictured: Katelyn Hoelzel gave cookies to a patient on Friday, March 9, 2018.)