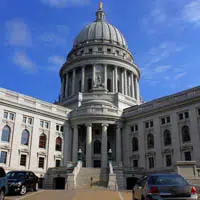 The state has nearly 50 specialty license plates, and one of them will now benefit two groups that help the families of fallen police officers.
When people get the law enforcement memorial plate, part of the fee is a $25 annual donation to the state and national law enforcement memorial funds.
Jim Palmer is the executive director of the Wisconsin Professional Police Association. He says it's a wonderful show of support for the organizations and what they represent.
Governor Walker signed a bill into law, setting up the donation.
Republican Rep. David Steffen of Howard was a co-author of the proposal.