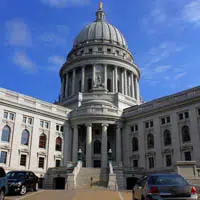 A Republican is dropping out of the race for state treasurer, the day after voters overwhelmingly supported keeping the office.
Tom Hiller says he's happy with his job as an investment manager, and he doesn't have time to campaign full-time.
Hiller's decision leaves Democrat Sarah Godlewski as the only registered candidate in this fall's race. Incumbent Republican Matt Adamczyk is leaving the office to run for an Assembly seat.
Godlewski says yesterday's referendum vote shows people want an independent financial watchdog. She called on lawmakers to restore the office's cash management powers.