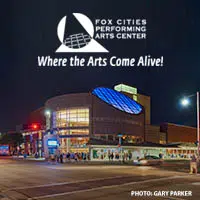 The Fox Cities Performing Arts Center is 15 years old, and 55 volunteers have been there since the start.
Leaders of the downtown Appleton venue are honoring them for their help.
Spokeswoman Trisha Witt says they're the greeters at the door, ushers, coat-check workers, and helpers in the main office.
In all, the PAC has about 400 volunteers, and they put in about 26,000 hours each year. That saves the PAC almost $600,000 a year.
Here is the list of the 55 volunteers who have spend 15 years at the PAC
Ruth Berra
Nancy Boll
Gordon Case
Darlene Coley
Rosemary Cummings
Bernice DeLaura
Lois Dennik
Kathy Ducharme
Jeanne Ehrhardt
Lil Fahrenkrug
Mary Ellen Fisher
Mary Fulcer
Kristine Gerhardt
Mary Hare
JoAnn Heegeman
Linda Hegner
Roger Johnson
Leah Johnson
Jerri Kahl
Judi Kiar
Sylvia King
Christine Kosiorek
Shirley Krause
Mary Krause
Roger Krause
Pat Krueger
Jillian Lallensack
Beth Lautenschlager
Bob Miller
Thelma Miller
Vickie Much
Marilyn Patterson
Betty Polacek
Don Rademacher
Carol Radtke
Faith Sauer
Dave Schoenke
Sally Schoenke
Pat Shoemaker
David Sipe
Lynn Staszak
Charlotte Steinkraus
Lorraine Steuck
Dorothy Stoflet
Wayne Stoflet
Carole Strohm
Roger Strohm
Vicki Syring
Sue Tappy
Shirlyne Van Den Bogart
Donna Vandenheuvel
Bernie Wall
Judy Winzenz
Bob Worachek
Judy Worachek