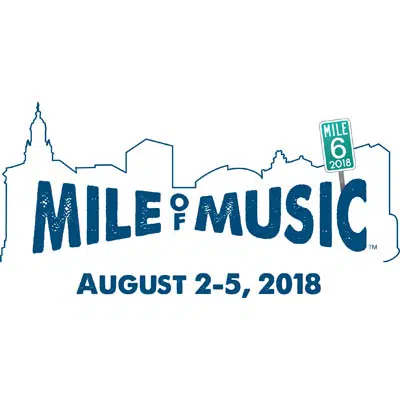 About one-quarter of the lineup for this summer's Mile of Music is in place.
Organizers released the list of the first 50 artists yesterday.
Cory Chisel is the co-founder of the festival in downtown Appleton. He says it's an incredible group of brand new artists, and favorites from past festivals. He says some of the musicians have started to call Appleton their second home, and they look forward to coming back.
Chisel believes the music is also becoming more diverse, in sound and style.
Thirty of the first 50 will be playing at the festival for the first time. Around 200 artists will have about 900 performances, from August 2-5.
List of the First 50 artists
New Artists
Michigander (Midland, Mich.)
The Sea The Sea (Troy, NY)
Luke Winslow-King (New Orleans)
Lilly Hiatt (Nashville)
Melodime (Washington, D.C.)
Wilderado (Los Angeles)
Sara Potenza (Nashville)
The National Parks (Provo, Utah)
Pert Near Sandstone (Minneapolis)
The Hooten Hallers (Columbia, Mo.)
Zane Carney (Los Angeles)
Vesperteen (Columbus, Ohio)
McKinley Dixon (Richmond, Va.)
Carson McHone (Austin, Texas)
Pierce Edens (Mashall, NC)
Fox Grin (Nashville)
Girl Blue (Albany, NY)
The Brothers Footman (Indianapolis)
Sam Burchfield (Atlanta)
Abby Jeanne (Milwaukee)
Small Houses (Flint, Mich.)
Heather Maloney (Northampton, Mass.)
AJ Ghent (Atlanta)
The Talbott Brothers (Portland, Ore.)
The Right Now (Chicago)
Skyway Man (Nashville)
India Ramey (Nashville)
Jesse Ray and the Carolina Catfish (Grand Rapids, Mich.)
Jubal (Knoxville, Tenn.)
C2 & The Brothers Reed (Lexington, Ky.)
Returning Artists
Terra Lightfoot (Hamilton, Ontario)
The High Divers (Charleston, SC)
JC Brooks Band (Chicago)
Frederick the Younger (Louisville, Ky.)
Caleb Hawley (New York)
The Crane Wives (Grand Rapids, Mich.)
Smooth Hound Smith (Nashville)
Captain Ivory (Nashville)
SZLACHETKA (Nashville)
Dan Rodriguez (Minneapolis)
The Suitcase Junket (Leverett, Mass.)
Cory Chisel (Appleton)
Adriel Denae (Appleton)
Maybe April (Nashville)
Caleb Caudle (Winston-Salem, NC)
Christopher the Conquered (Denver)
Bishop Gunn (Natchez, Miss.)
Mo Lowda & The Humble (Philadelphia)
Amasa Hines (Little Rock, Ark.)
Fort Frances (Chicago)
More artists will be released throughout the next few months leading up to Mile 6 in August. Festival organizers say artists are subject to change.