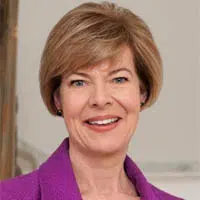 The state's Democratic U.S. Senator is opening up about her mother's opioid addiction.
Sen. Tammy Baldwin of Madison says she felt the time was right, after her mother's death last August, and a recent Senate hearing where families told their stories.
Baldwin was raised by her grandparents.
She says her mother struggled with mental illness, and was addicted to powerful narcotics that were prescribed to help her deal with pain.