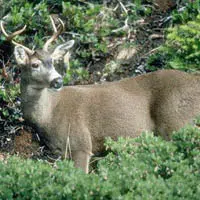 The head of an outdoors group is reacting to Governor Walker's proposed rules to fight the spread of chronic wasting disease.
He wants to improve fencing around deer farms and ban the movement of live and dead deer out of CWD-affected areas.
George Meyer is the director of the Wisconsin Wildlife Federation. He says it's a good first step, and it will hopefully slow the disease down.
Meyer says he still wants to see more funding for monitoring deer in the state. He says they need to see how far CWD has spread. He says they may have to wait for that until the next state budget.