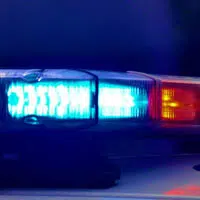 Kaukauna police arrested an Oshkosh man, after they say meth-making materials were found by the Konkapot Creek Trail.
They had to close a segment of the trail on the south side because a company had to clean up the waste in a wooded area.
Asst. Chief Jamie Graff says they were called to Piggly Wiggly for a shoplifter, and workers were holding a man, with the help of another person. He says they took the 28-year-old man into custody.
He says a second man ran off, and they found him hiding in the wooded area, along with the meth-making materials.