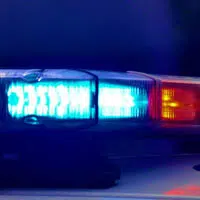 A Green Bay woman is dead after a high speed chase and crash in Langlade County near Antigo, Saturday.
The State Patrol says Shawano County Sheriff's deputies were following 35-year-old Stacey King who was going 91 mph in a 55 mph zone.
The vehicle rolled over and crashed on Hwy 45 at Old 26 Road.
Her passenger, 36-year-old Albert Biddell from Antigo, was flown to a hospital with life-threatening injuries.
They say neither person were wearing a seat belt.