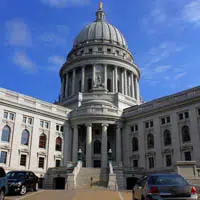 Two Republicans are squaring off next Tuesday in a special primary election in the Senate's 1st District.
Representative Andre Jacque of De Pere will take on businessman Alex Renard of De Pere.
Renard is a political newcomer and he's the operations manager at Renco Machinery in Green Bay. He says he supports the state's efforts to train more workers. He says the state needs to continue to put their resources into education.
Renard says the state needs to find more money in the budget to improve roads. He says he doesn't support raising the gas tax without an offsetting tax cut in another area.
We'll hear from Jacque on Monday morning.
The winner of the primary will face Democrat Caleb Frostman of Sturgeon Bay on June 12th.