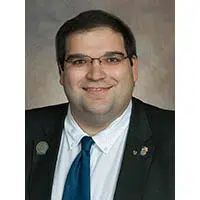 After spending over seven years in the Assembly, a Republican from De Pere is running for a state Senate seat.
Rep. Andre Jacque squares off against businessman Alex Renard of De Pere tomorrow. They're running in the GOP primary in a special election in the 1st Senate District.
Jacque says the state could take money from budget surpluses to help increase funding for road projects.
On education funding, Jacque says it's not about how much money the state spends, but what areas are targeted. He mentioned worker training and special education as a couple of important areas.
The winner of tomorrow's primary will face Democrat Caleb Frostman of Sturgeon Bay on June 12.