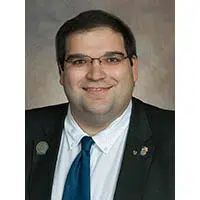 Two top Republican lawmakers from northeast Wisconsin are reversing course, and pledging to support one of their Assembly colleagues in next month's special election for a state Senate seat.
Republican Rep. Andre Jacque defeated businessman Alex Renard in yesterday's GOP primary. Majority Leader Jim Steineke of Vandenbroek and Rep. John Nygren of Marinette backed Renard in the primary.
Jacque will face Democrat Caleb Frostman of Sturgeon Bay on June 12.