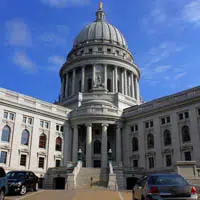 Two candidates are gearing up for a special election less than a month from now.
Representative Andre Jacque of De Pere won Tuesday's Republican primary in the 1st Senate District. He'll face Democrat Caleb Frostman of Sturgeon Bay on June 12th. The winner will already have to run for re-election in November.
Jacque says you have to be committed to a long campaign. He says he expects a rematch of the special election because there isn't much time to change things up.
Jacque defeated businessman Alex Renard in Tuesday's primary. It's not known if Renard will challenge Jacque again this fall.
The 1st Senate District is a swing district. President Trump won it in 2016 and President Obama carried it in 2008 and 2012.