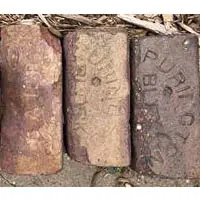 People can get their hands on a piece of history from downtown Appleton.
The Hearthstone Historic House Museum is selling about 32,000 bricks that used to line College Avenue about 100 years ago. The "Puritan Paver" bricks were removed in the 1960s and they now make up the parking lot at the museum.
Hearthstone Executive Director George Schroeder says they're selling them for a dollar each because they want to re-do the lot. He says they're in good shape. He says they want to keep them local for their historical significance.
Schroeder says people can pick up bricks from 3:00 p.m. to 5:00 p.m. Monday through Friday and Saturdays from 10:00 a.m. to 3:00 p.m. He says people have to pull the bricks out of the ground themselves so they'll need to bring tools.