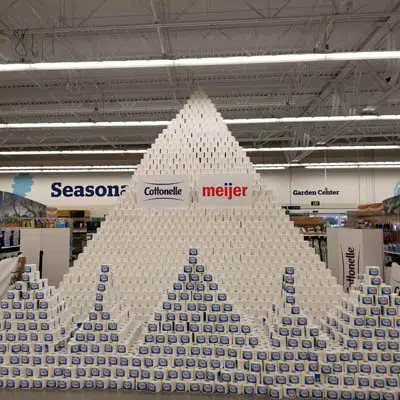 A pyramid of toilet paper stretches to the ceiling at the new Meijer store in Grand Chute and it's the biggest ever made in the world.
14 workers spent about 10 hours yesterday piling up over 25,000 rolls. Store Director Joel Robles says an official from the Guinness Book of World Records stopped by this morning and ruled that it set a new height record. He says the old record was 13.5 feet set in 2012 in Brazil.
Meijer partnered with Kimberly-Clark and all of the rolls are the Cottonelle brand. The pyramid weighs over 11,000 pounds and that's more than two elephants. The combined length of the toilet paper on the rolls is over 1,600 miles. That would stretch from Appleton to about Miami, Florida.