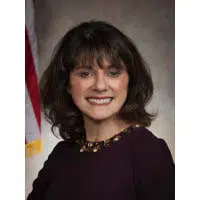 One of the Republicans in the race for U.S. Senate stopped in the Fox Cities this morning.
State Sen. Leah Vukmir of Brookfield toured the St. Joseph Food Program in Menasha.
She says she hopes to build momentum for her campaign, after delegates at the state Republican Party convention endorsed her earlier this month. Vukmir faces businessman Kevin Nicholson in the August 14 primary.
The winner will face Democratic U.S. Senator Tammy Baldwin in the fall.
Vukmir says the food program shows how one person's idea can have a big impact on a community. Tom Schiltz founded the pantry 35 years ago.