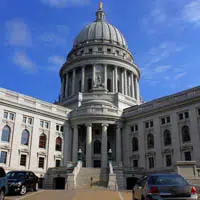 Democrats from around Wisconsin are converging on downtown Oshkosh for the state party's annual convention.
The event is today and tomorrow at the Best Western Premier Waterfront Hotel and Convention Center. 10 Democratic candidates for governor are scheduled to speak tonight.
Martha Laning is the chair of the state party. She says they want to make sure people know what each candidate is offering.
Laning says they won't make an endorsement of any of the candidates because it's against the state party's constitution. The mayor of South Bend, Indiana will be the keynote speaker tonight.