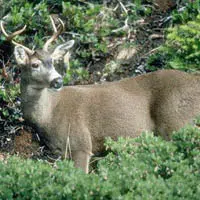 June is the month when people in the state are most commonly injured from a crash involving a deer.
Randy Romanski is with the Wisconsin DOT. He says there are some steps people can take to minimize the risk of a collision. He says people should slow down and use their horn to scare the animal away. He says people should be cautious because where there is one deer there are usually more close by.
Romanski says people should also buckle up, be alert, and eliminate distractions. Last year there were more than 20,000 crashes involving deer in Wisconsin.