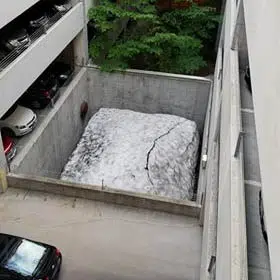 There's still a reminder of winter in a downtown Appleton parking ramp.
A pile of snow about 15-feet high is in an open area in the middle of the Yellow Ramp.
City spokesman Chad Doran says it's designed as a spot to store snow, and the area is mostly in the shade. He says crews push the snow from the top level down into that spot.
Doran says there was already a large pile there before the blizzard in April dumped a record amount of snow.
The ramp is on Morrison Street, one block north of College Avenue.
(Photo by JP Heim, shared through @cityofappleton Twitter)