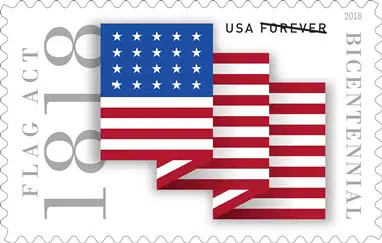 The latest postage stamp from the U.S. Postal Service will be unveiled before tomorrow's Flag Day Parade in downtown Appleton.
Don Burich is one of the parade organizers. He says several months ago, the U.S. Post Office contacted them. He said they wanted to unveil the stamp at the oldest Flag Day Parade in the country. He says it's the Flag Act of 1818 Forever Stamp.
The Flag Act of 1818 limited the flag to 13 stripes to symbolize the original 13 colonies. Each state would be represented by a star.
The ceremony will be in Houdini Plaza at 11:30 in the morning. Burich says the NewVoices choir will sing leading up to the start of the parade at two in the afternoon.