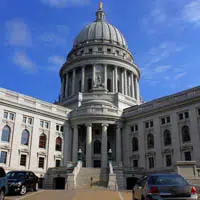 A state group says outside groups have spent nearly half a million dollars on today's special election for the 1st Senate District seat.
Democrat Caleb Frostman of Sturgeon Bay is up against Republican Representative Andre Jacque of De Pere.
David Helpap is an associate professor of political science at UW Green Bay. He says the Senate is pretty evenly divided between both parties.
State records show the candidates spent about $200,000 on political adds while outside groups spent about $500,000.
Helpap says he's not sure who will win the election. He says it'll be up to who's voter base is more motivated to get out for the election.
The 1st Senate district covers parts of Outagamie, Brown, Calumet, and Manitowoc Counties.