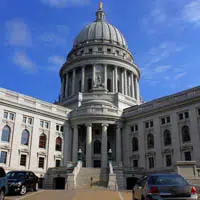 A Democrat will hold a state Senate seat for the first time in 41 years after yesterday's special election, and a political science professor is reacting.
Democrat Caleb Frostman of Sturgeon Bay defeated Republican Rep. Andre Jacque of De Pere in the 1st Senate District.
Asst. Professor David Helpap teaches at UW-Green Bay. He says since the district traditionally leans toward Republicans, Jacque would try to draw from a bigger pool of voters, if there's a rematch in November. He says because it was a special election, the turnout was lower than a typical fall election.
But Helpap says Frostman will have the advantage of being the incumbent. He says it was a pretty impressive win yesterday, and Frostman should be excited about what he was able to do.
Helpap says it was a very unique election because it was in the summer.